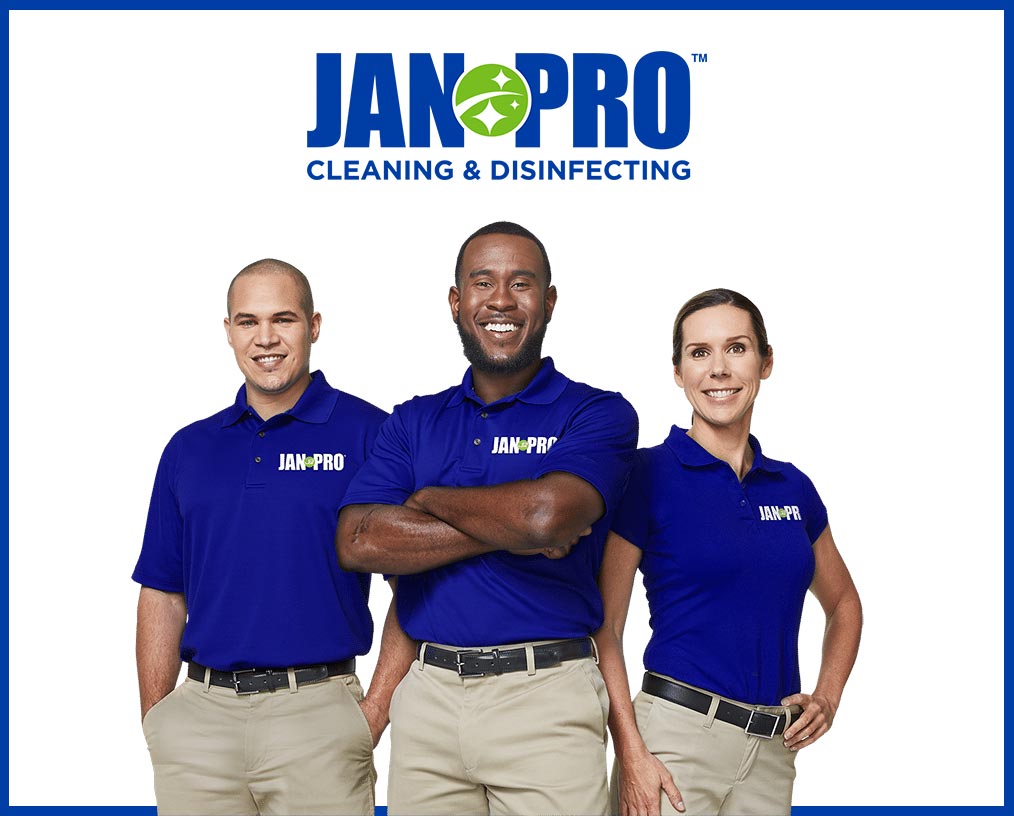 About the client
JAN-PRO Cleaning & Disinfecting is a B2B  client in the facilities management space that operates via a multi-tiered franchise network to grow and sell its services. Their core business offerings include commercial cleaning and franchise development.
The JAN-PRO Cleaning & Disinfecting franchise locations that we serve endeavor to be the market leaders in their respective territories, generate demand for their commercial cleaning services, and build new businesses through franchise development.
Business Challenges
Being part of a stable and market-leading franchise network is pivotal to the success of our JAN-PRO Cleaning & Disinfecting clients. Nothing beats tried and tested systems from an established cleaning franchise with over 30 years of market dominance.
Increased Competition
However, as the demand for commercial cleaning increased throughout the years, the competition is steeper than ever. The current industry landscape asks for more than reliable service for franchisees to stay on top of their A-game. While locators have been receiving ample marketing support from HQ, the responsibility to keep up with marketing trends and fight for customers' attention online, remains on their shoulders. The owners struggle with having to manage day-to-day operations and effective digital marketing strategies.
Website Performance Losses
With customer engagement mostly taking place online, the website is a critical piece of the business. Unfortunately, multiple vendors at the corporate level and years of unguided decision-making resulted in significant performance losses for the corporate site, impacting lead generation initiatives down to the franchisee level.
Scaling Challenges
As the network continues to grow and develop new locations, the multi-tiered franchise structure implied significant legal challenges. This pushed for branding segmentation between their core services as well as strategic publishing, and funnel development.
Customized Solution
As a committed partner of JAN-PRO Cleaning & Disinfecting locations in Detroit, Nashville, and Northeast Wisconsin, our goal is to provide customizable marketing solutions that meet each territory's business needs. While they all operate based on a set of SOPs, our commitment goes beyond cookie-cutter service. We believe that location-specific marketing efforts that are aligned to their internal business processes, team structure, sales cycle, and marketing budget all play an important role in creating their recipe for success.
Concinnity Digital offers a full suite of marketing services from a foundational package up to a comprehensive marketing and sales package designed for businesses who are looking to fortify their infrastructure and increase margins.
Our JAN-PRO Cleaning & Disinfecting clients benefit from Concinnity Digital's Tier III and IV packages that include Google ads, Facebook ads, CRM, organic social media management, and graphic design. Appointment setters and a success adviser are additional features in our Tier IV package. All of which are working together to help each territory gain ground on new account acquisitions and new franchise units sold.
Scope of Work
Website
Working with the local owners, we designed a modern, professional and user-friendly site to reflect the expertise and reliable service that each location offers. More than aesthetics, our focus is to improve the site's ability to attract the right customers, optimize the sales funnel across the brand segments of commercial cleaning and franchise, and boost the local site's ranking for long-tail keywords.
CRM
Leads falling through the cracks, appointments missed, promotional offers sent a day late and overwhelming admin tasks are the business pains encountered by our JAN-PRO Cleaning & Disinfecting clients.
To resolve these issues, we custom-built a pipeline opportunity automation system for each location. The design process included aligning with their sales team to ensure that the infrastructure matches their sales cycle and internal processes, in order to achieve these goals:
Automate opportunity management for their Account and Franchise Pipelines
Effectively manage customer touchpoints
Increase overall conversion rate
Reduce admin work so they can focus on revenue-generating activities
Google Ads
With the objective of expanding reach and generating qualified leads, our 360° marketing efforts include google ads that are strategically designed to:
Generate high-converting leads
Increase phone inquiries
Reduce overall digital spend and cost per conversion
Social Media Marketing
In any industry, leveraging social media to engage customers, establish brand trust, and generate demand is important.
We provide social media marketing as a service to JAN-PRO Cleaning & Disinfecting location clients, covering both organic and paid efforts.  This includes social media posting, creating an editorial calendar, competitor watch, and retargeting campaigns. Having one team manage customer communications across all channels (social, email and CRM) is an effective way to make sure your messaging stays on brand and that it resonates with your audience.
Inside Sales and Data Enrichment
In order to drive growth and provide additional support to the sales team, our Tier IV service package includes a dedicated inside sales staff. He/she is properly trained and equipped to:
Manage inbound and outbound calls
Book appointments using an approved call spiel
Make at least 75 cold calls per day
Manage customer conversations and queries via other channels (Facebook, GMB, SMS)
Maintain database and deliver nurture campaigns
Tier IV service also includes data enrichment clarifying MOFU traffic with IP address data enhancement via Leadfeeder. This proves to be helpful in building a strong database and providing insights for the sales team in their conversion process.
Success Results
JAN-PRO in Nashville
Having a solid Opportunity Automation for Franchise increased the team's efficiency in managing their sales pipeline. The system provides real-time notifications to the team each time a lead comes through, allowing them to reach the prospect while they are still hot.

System-automated messaging at specific touchpoints and sales stages not only reduced the admin work from the team but also increased the conversion rate of qualified leads by 418%.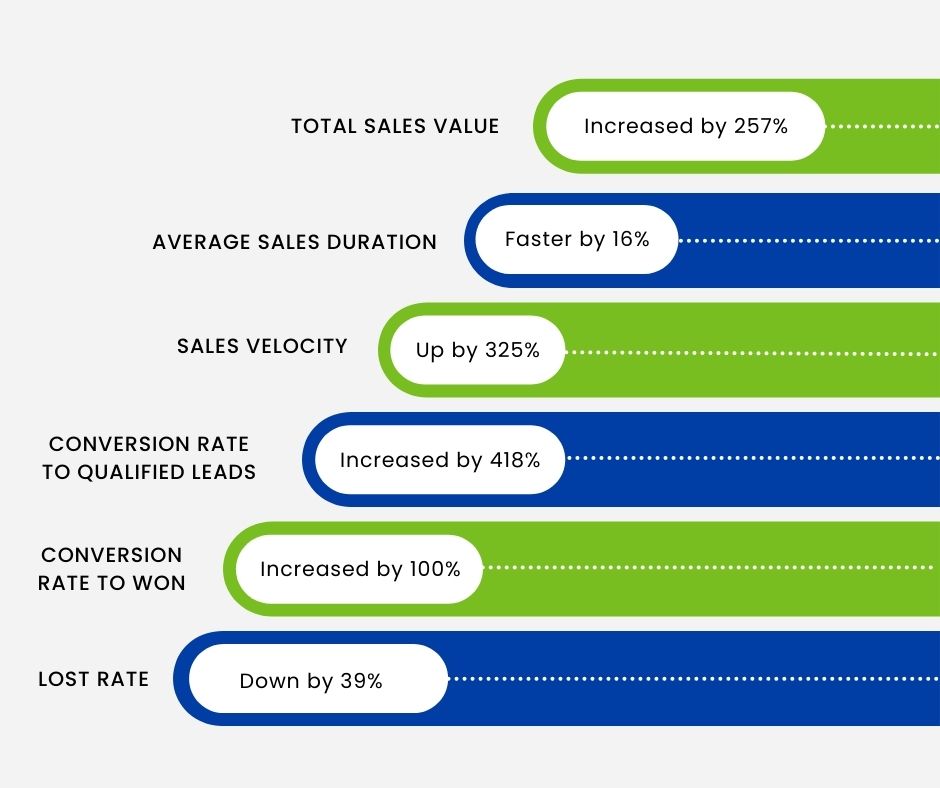 Versus the same period last year, CRM analytics shows a 100% increase in total Leads, 325% increase in Sales Velocity with which opportunities are being closed faster by 16%. There's also a significant decrease in lost & abandoned leads which are at 56% and 40% respectively.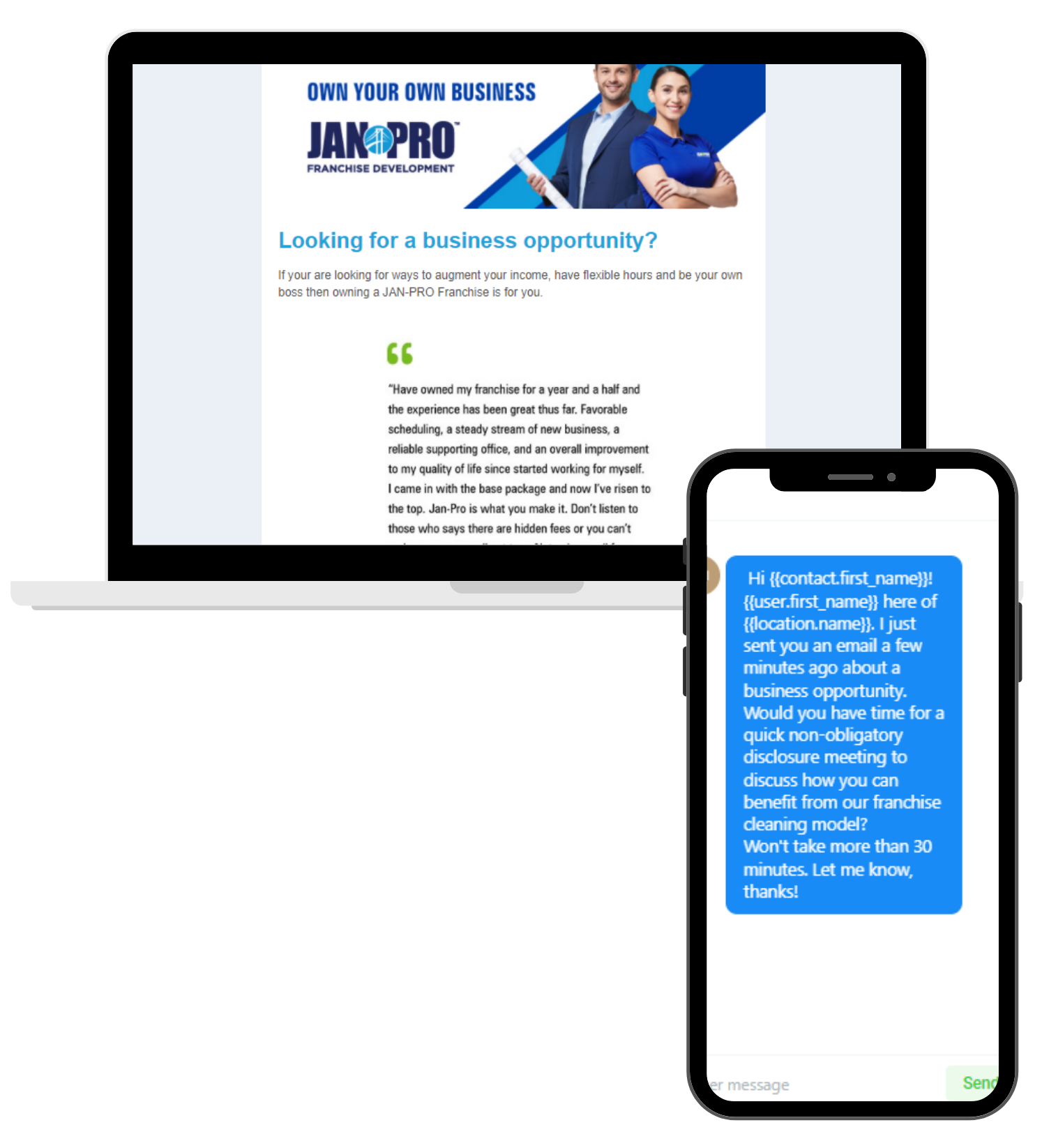 Prospects who booked an appointment are automatically confirmed and reminded of their bookings, therefore increasing the appointment confirmation rate by 300%.
Here's a sneak peek of the Franchise Pipeline Automation and campaigns set up for JAN-PRO in Nashville.
JAN-PRO in Detroit
Google Ads
In just a few months of managing the client's google ads, search campaigns have ranked for niche keywords with ave. CPC of $6.48, 101 conversions, and 64 phone calls, all achieved within budget.
The data below shows the demographics of Google Ads leads that are being fed into the sales funnel. With this, the sales team gains visibility and insights on the profile of their leads, allowing them to have data-driven conversations and increasing the overall probability of conversion.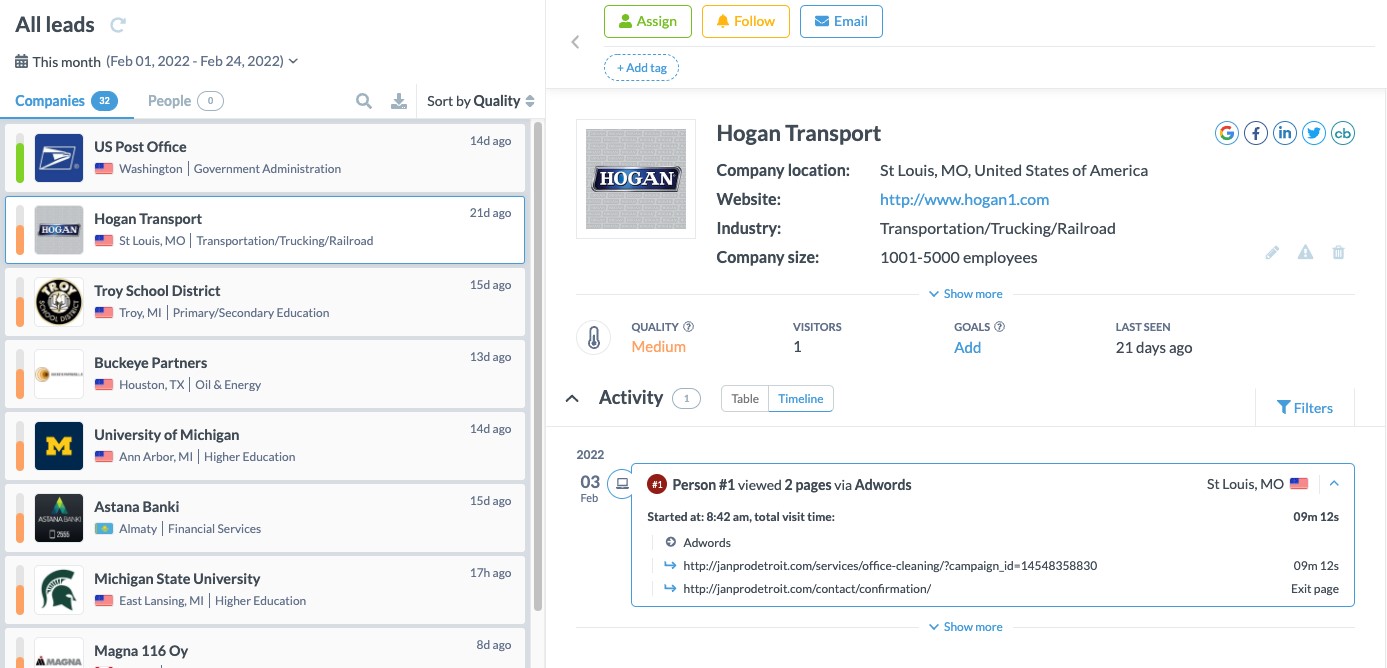 SEO Site Rankings
By building the client's local website that puts SEO and user experience at the forefront, we were able to drive solid web traffic and active users to the site. The strategy includes on-page and off-page SEO which can be broken down to:
Creating specific landing pages and content to increase crawlability and indexing.
Keyword research and targeting for ranking
Site optimization for title tags, content,  meta descriptions, and SERP
Link building
Social Media integrated campaigns to drive visitors to the site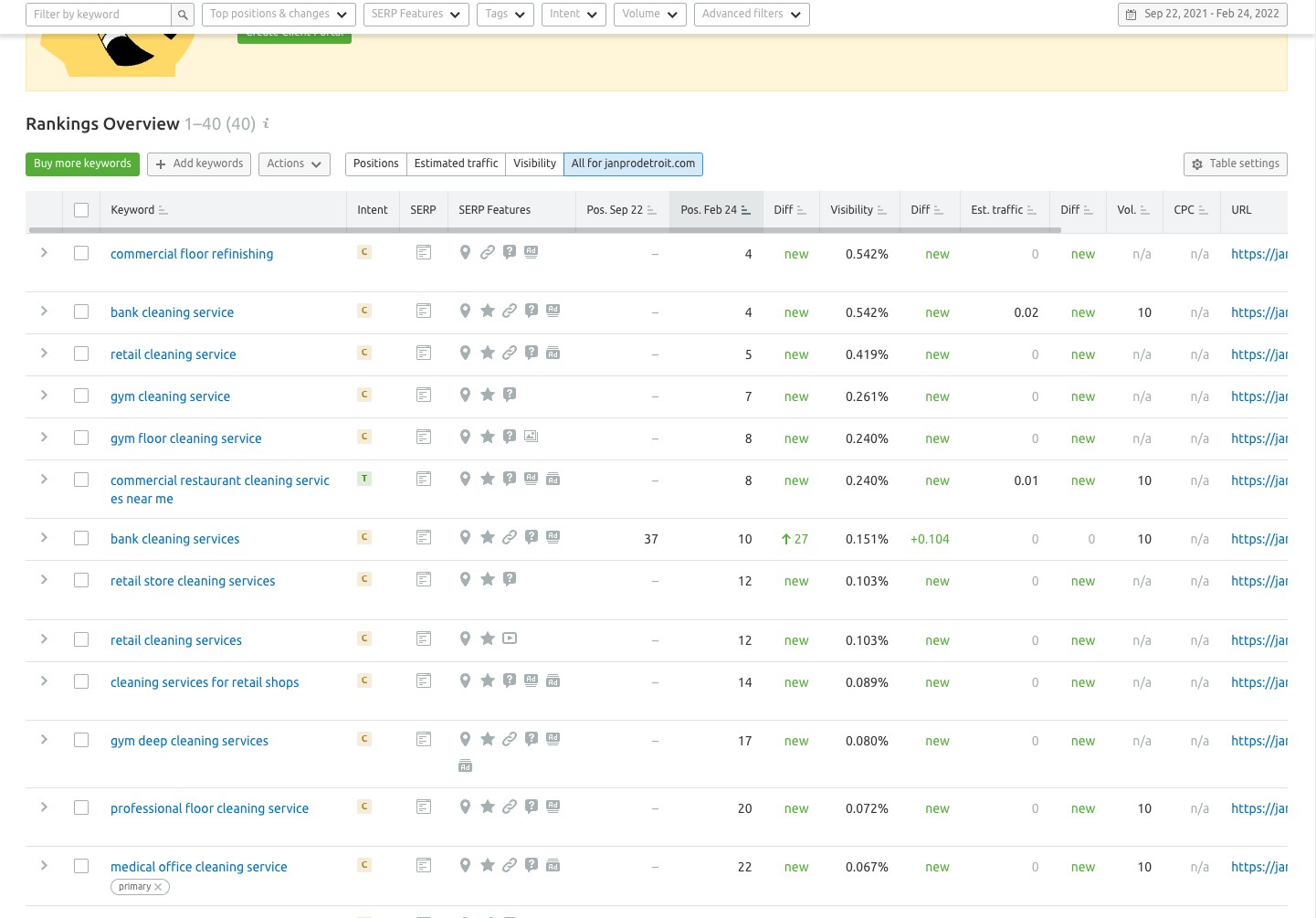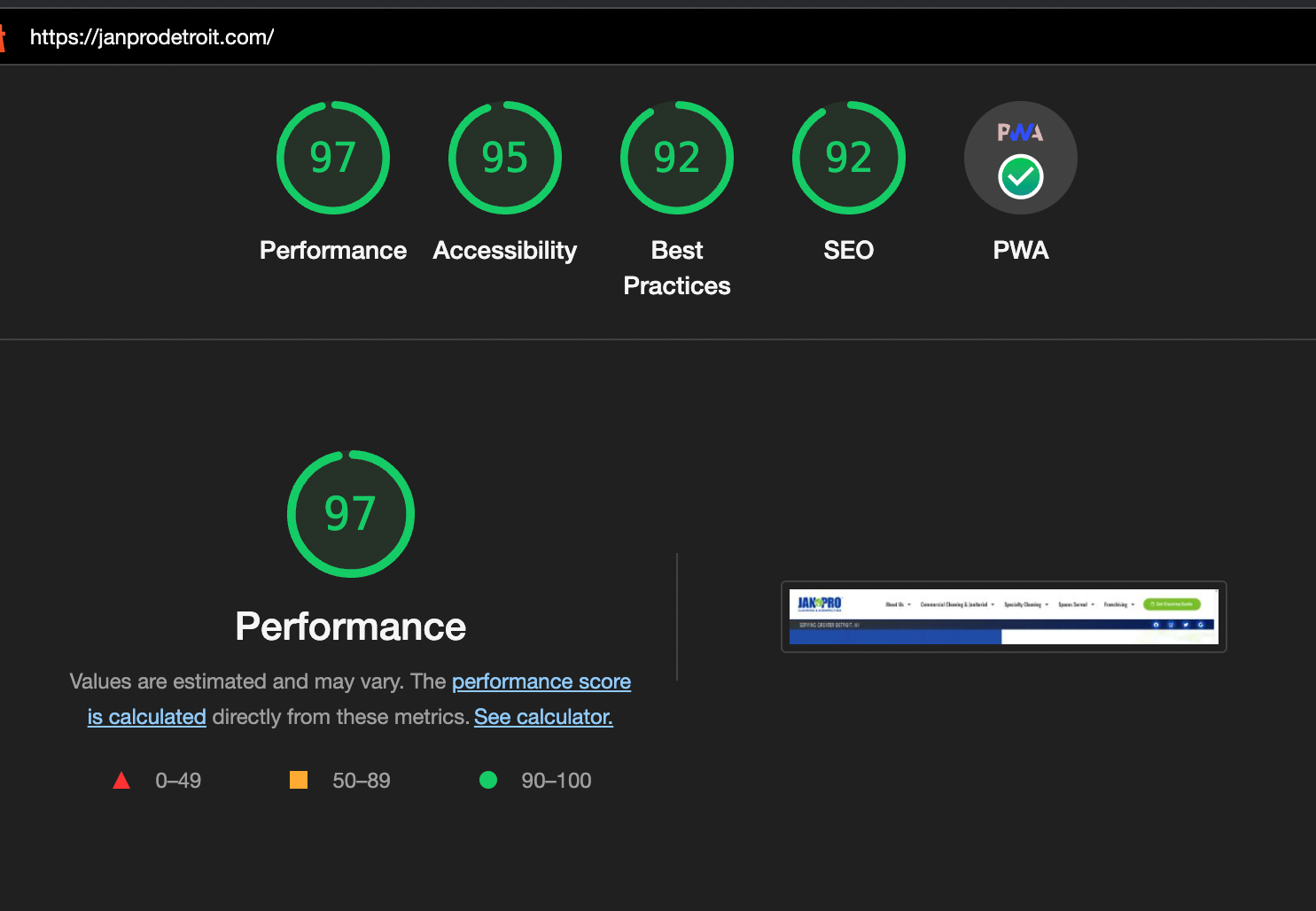 Inside Sales
As a Tier IV client, the JAN-PRO in Detroit service package includes a dedicated Inside Sales Staff who is responsible for managing inbound and outbound phone calls, setting appointments, and triggering nurture emails to the target database.

JAN-PRO in Northeast Wisconsin
Account Lead Generation
Implementing a Pipeline Automation for Accounts improved the conversion rate and overall efficiency of the sales team in managing their opportunities. Team members are able to reach prospects in a timely manner, making sure no leads fall through the cracks.
Stage-specific client communications via SMS and emails are automatically triggered and are designed to push the prospects down the sales pipeline. This allowed the team to use their time on high-impact tasks, increasing their conversion rate for qualified leads by 100%.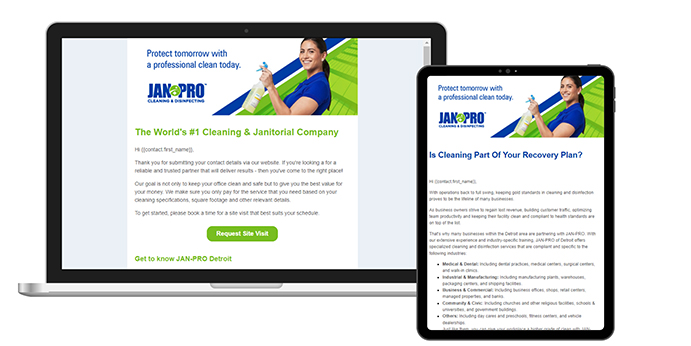 Versus the same period last year, CRM analytics shows a 100% increase in total Leads, 890% increase in Sales Velocity with which opportunities are being closed faster by 19%. Abandoned leads also decreased by 75%.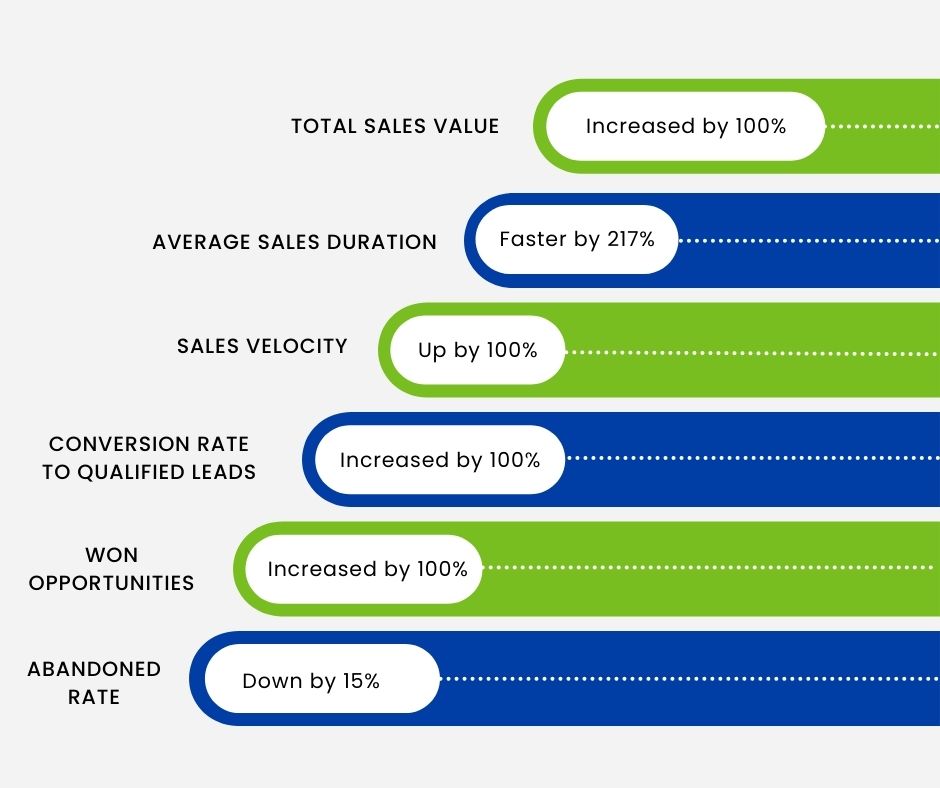 Managing the client's Facebook ads, this channel brought in 68 qualified leads at $25.13 cost per lead and $3.43 CPC, which is way below the approved 2021 ad budget.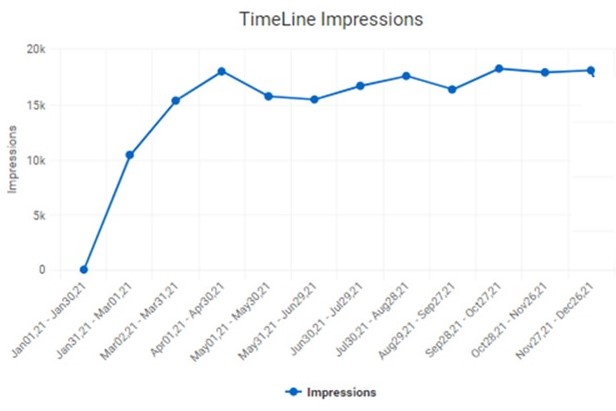 Here's a sneak peek of the Account Pipeline Automation created for JAN-PRO in Northeast Wisconsin.